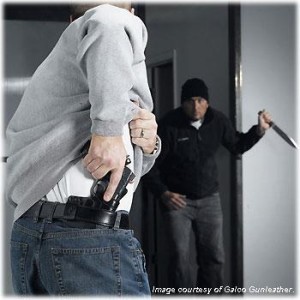 OK, so I don't make a lot of "gun posts" or anything not directly related to EMS very often. But I think I'm going to make an exception here. I recently was issued a permit to carry a concealed weapon. I started the application process a while back and all it took was a few hundred bucks, an 8 hour class, 2 background checks, an excessive waiting period,  a "good reason" and now I'm legal.
Of course, I showed up at my local Sheriff's office with the firearms that I intend to carry. In California, we are required to list those firearms on our permits and we are limited to listing no more than 3 guns. They inspected my guns, ran the serial numbers and handed me the long anticipated piece of paper.
I immediately placed one of the 2 guns that I listed in an "under the waistband" holster that I had purchased earlier that week. It's probably no surprise that I spent a lot of time trying different style holsters and finding that special one that would be both comfortable and easy to access. I went to the indoor range by my house every week and practiced drawing and firing. I knew that every bullet has a lawyer attached to it, so I knew I better be good. In the event that I actually did have to use my concealed weapon (god forbid), I wanted to make sure I used the least amount of rounds as possible.
I thought I was ready. I practiced and I knew what carrying option was going to be "comfortable". What I didn't prepare for, was the lifestyle changes that were going to have to take place IMMEDIATELY. And trust me when I say lifestyle change.
I left the Sheriff's office with a smile on my face. After all, I was exercising my 2nd Amendment rights. However, it didn't take but 3 blocks before I checking over my shoulder every 2 seconds for cops. Why was I doing this? I wasn't doing anything wrong. I was well within my legal right to carry this piece of polymer and stainless steel. Being a law abiding citizen for my whole life – well most of it – I had trained myself to think that carrying a loaded firearm was a huge no-no. This took a couple days to get over.
Before heading home, I needed to make a stop at the local Target. I got out of my car and immediately checked my side to make sure my newly legal concealed weapon wasn't visible. I must have needlessly pulled my shirt down 8 times before I walked inside the store. The whole time I was inside I don't think my heart rate ever dropped below 100. I was constantly checking my back and looking around to make sure there weren't any threats. I didn't really believe that one existed, but I couldn't help myself. After all, I had been shopping at this same store for last 5 years and hadn't had any trouble yet.
No matter how well I thought the holster fit, I couldn't have possibly predicted how uncomfortable this hunk of metal was going to be. Getting in and out of my car, carrying groceries, and bending down to pick up stuff all seemed to be much more of a chore now.
So tell me again why I wanted this permit so bad?
After a couple days I really started to come to terms with my new responsibility. You may have noticed how I didn't say "new right". This is because carrying a concealed weapon is just that, a responsibility. I am responsible for ensuring that the weapon is concealed and stored in a manner that prevents "accidental discharge". Being that I have children, I am also responsible for making sure it is locked away once I get home. But most importantly, I am responsible for knowing how to use it in the event that my life or the life of others is threatened.
Going out to run errands isn't as simple as just getting in the car and going. I have to think about the places that I am going to. If for any reason I must go to a government office, then I need to leave the weapon at home. Sure I could lock it inside my car, but then I am faced with removing the weapon from my person and securing it. All without anyone seeing me do it. Not to mention the risk of the firearm being stolen from my vehicle and used to commit a crime.
Going out to dinner means watching what I order. I have always had a personal rule that alcohol and firearms don't mix. No matter the amount. Well now Mr. Law has reaffirmed that rule and will not only revoke my permit, but probably place me in jail if I so decide to consume alcohol while carrying my weapon. If I'm going to have a beer with the guys, then the weapon stays home.
The best tactic for carrying a weapon is never having to use it. If I'm driving home late at night and need to stop for gas, I'm not going to stop in a known high-crime area. If I see some suspicious people standing outside of a 7-11, I'm going to keep driving until I find a safer place to get my coffee. Where I might run into trouble is when those "suspicious people" show up while I'm at the store or are waiting for an easy target as I'm walking out. But that's ok, because now I have the only thing that puts me on the same playing field.
I never engage in verbal altercations and I mind my own business. I'm not a cop or a vigilante. As much as I would like to see this world free of crime, I really just want to go home to my family. I am certainly not going to go out of my way to get involved in something that would be better handled by the cops. However, I will not stand and watch an innocent person be harmed.
I have learned that there is simply no way to comfortably carry a firearm. But that's because it's supposed to be comforting not comfortable. Besides, it nice to have a little reminder that it's there.
I know that the odds are that I will never have to use the weapon. But I also know that there are bad people in the world and bad things happen to good people. I know that me or a family will not be a victim. I know the bad guys have guns and now one more good guy has one. Nothing like evening the odds a little.
Carrying a concealed weapon has done so much more for me than add a new level of protection. It has made me a more responsible adult. It has also given me a whole new respect for the men and women that carry these weapons for a living. I truly hope that I never have to use it. I hope that some minor back pain and a lifetime of wearing pants 1 waist-size too big are all I have to show for taking on this new responsibility.