Welcome to part 1 of my new series on "turning your Android phone into an EMS tool". The goal of these tutorials are to help place the power of technology in the hands of EMS professionals. I have always been of the belief that being intelligent isn't necessarily knowing everything, but knowing where to find information. Technology and the internet have empowered us as healthcare providers to be more productive and efficient all while providing exceptional patient care.
If there is one thing that I make sure I have before every shift, it is my Android phone. I use it to  look up drugs, research medical conditions, review protocols, translate foreign languages, identify pills, do math, take notes and make base contact. Ever since I bought my "Droid" a year ago, I have constantly been working to customize it to the point that it has truly become my personal EMS assistant. This guide will take you through easy steps towards customizing your own phone to help you in your everyday roll as an EMS professional.
So lets move on to the good stuff shall we?
Introduction
This tutorial will no require NO additional applications. I am going to show you how you can modify your phone to help make your job easier. Nothing that I show you will void your warranty or cost you any money. As a matter of fact, this entire series will show you how to transform your phone into your EMS assistant without spending a dime.
Step 1 – Setup your "EMS Screen"
Having multiple screens is just one of the cool features that comes with Android phones. In this section we are going to clear out one of those screens to be your "EMS Screen". I typically make mine the one on the very right. This of course can be changed to your liking. If you really want to get fancy, you can install the "Helix Launcher" from the app market. This app allows you to add up to 7 screens on your Android phone. This is optional and something that can always be done at a later time.
Now that you have a clear desktop to be used as your "EMS Screen", we need to start unpacking and decorating. To begin, lets place a really simple app on your screen that comes pre-installed. The calculator. I am a firm believer that no paramedic should be without one. To do this, you need to scroll to your EMS screen, press and hold your finger on the desktop until you see a menu box pop up labeled "Add to Home Screen". From here you will need to select "shortcuts", then "applications" and finally select the app you want to add to your screen. In this case we will select "calculator". Remember this method can be used to add any application you want to your EMS screen (or any screen for that matter). You can move the calculator icon around by pressing and holding it until unlocks, then you can move it about as you wish. I prefer to keep my calculator on the top right of the screen, you can find a place that works for you. Now repeat this process and add "Maps" as well. This will come in extremely handy when locating calls.
Now we need to make a couple folders that will be used to place contact numbers in. To add a folder, simply press and hold on the screen (just like the previous step) and select "folders". From here you need to select "new folder". Now that the folder is on your desktop, we need to change the name to better organize our contacts. Do this by opening the folder, then pressing and holding the title bar until a screen pops up that allows you to rename your folder. Input the desired name and hit OK. I typically have 2 folders on my EMS screen, "base" and "dispatch". I use these folders to store dispatch and base hospital phone numbers. You can add as many as you like, but be careful not to take up too much room. There is a lot more to come and we will need all the space we can get. (Side Note – These folders can also be used to store shortcuts to applications)
Now the final thing to add in this step is our Google Search Bar. Having quick and easy access to Google's powerful search engine may be the most useful feature that we add to our EMS screen. You should already have a google search bar on your home screen. You can either move that one to your EMS Screen or just make a new one. For the purpose of this article, we will just make a new one. To do this, press and hold your EMS Screen and select "Widgets". From here we need to select "Search". Once the search widget is in place, then you can move it to wherever you like. I prefer to keep mine on the bottom of the screen. Do what works for you.
Below is a picture of what our EMS Screen should look like so far.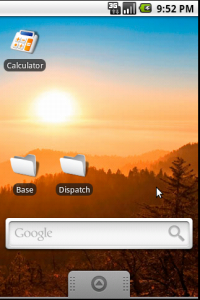 Step 2 – Set up your contacts
This may seem like an obvious task to you, but you would be surprised how many paramedics don't take advantage of even the most basic cell phones out there. As EMTs and Paramedics we have tons of phone numbers that should be accessible at all times. The simple steps that we cover here will also come into play as we cover some more advanced Android features later in this lesson.
There are various types of phone numbers that we need to keep. These of course may differ based on the area that you work, but here is a good starting point.
Dispatch (EMS, Fire, Police, etc)
Base Contact (Both core numbers and ER numbers)
Poison Control
I personally like to keep these numbers grouped together as it makes finding them much quicker. We will do this by creating new contacts and placing their respective category in front of the contact name. For example, when entering a phone number for your EMS dispatch, your contact name should look something like "Dispatch – EMS". Likewise, your fire dispatch should be "Dispatch – Fire". This way they will show up next to each other on the contact list. Below is an example of an organized contact list.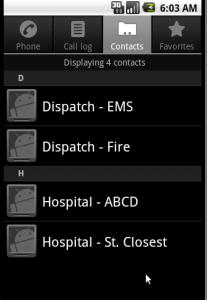 After creating the name of your contact, you will now want to add custom phone number fields. This will prove to be handy when adding phone numbers for the local hospitals. I typically like to add a number for making base contact and the general ER number. You can properly label these numbers by changing the default label from "home" to "custom". This will bring up a window asking you to input the name that you wish to use for the label. You can then add as many more numbers as your wish using the "+" button. Below is an example of creating a custom label.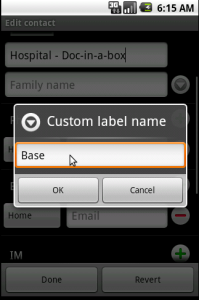 Continue these steps until you have all your desired contacts added.
Step 3 – Place Your Contacts in Folders
Now that we have added all of our contacts, it is time to put them all in their respective homes. We are going to do this by pressing and holding the EMS Screen , selecting "Shortcuts", then selecting "Contact". Now simply select the desired contact and it will be placed on your EMS Screen. Next we need to move it into the desired folder by pressing and holding the contact shortcut, then dragging it into the folder. Repeat this step until you move all of your contacts into their respective folders. Now when you need to dial one of your saved numbers, simply select the folder and select the desired number.
Below is an example of how you utilize the contacts saved in your folders.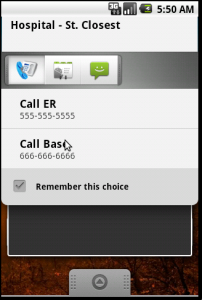 Coming in Part 2
This tutorial was designed to get you started and lay the foundation for your new EMS tool. Part 2 of the series will feature some of the following:
A list of free useful apps that can be used in the pre-hospital setting.
More tips and tricks for adding different kinds of shortcuts to your EMS Screen.
A tutorial on how to place your protocols directly on your EMS Screen.
A guide and demonstration on how to put it all together.
If you have any questions or comments, please feel free to e-mail me or comment below.