My name is Sean Eddy. I'm a father, paramedic, musician, writer and fitness coach. I'm also an Aries and I enjoy long walks on the beach.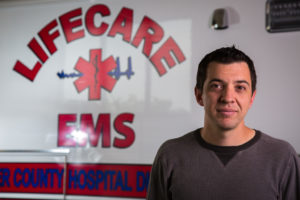 I started my EMS career around my 19th birthday working for a small, rural ambulance service in Central California. After a couple years of rural work, I landed a job in the city working for a rather large private ambulance service. I completed paramedic school and eventually worked my way through the ranks of "preceptor" and "field supervisor".
After 7+ years of working at a busy service in Southern California, I uprooted and moved to North Texas to start my new journey. I returned to working in the rural EMS setting and I spent a short period of time working part-time in a children's hospital. Within the last 2 years, I got involved in tactical EMS and now actively serve on a SWAT team as a tactical medic. I also (kinda) came over to the dark side and started dispatching part-time. And yes, I do actually have days off work.
When I'm not working as a paramedic, I can usually be found playing music, writing and promoting personal wellness.
My Mission
For the most part, my mission outside of patient care is to promote personal wellness for all first-responders. I frequently talk about what I believe is the 3 key ingredients to a successful and enjoyable EMS career: Healthy minds, bodies and wallets. There are a lot of voices out there trying to help people get into or out of this profession, but nobody seems to be talking about how to stay. That's where I come in. There are a lot of great people that truly have a passion for this line of work that end up leaving for other careers. Many of these people left because they felt they had no choice. I want to help make EMS a career that people can enjoy for as long as they please. I want to help retain as many of these people as we possibly can.
I go on a lot of rants, and sometimes my opinions piss people off. I change my mind a lot and I have a tendency to contradict myself. I don't have all the answers because I'm still figuring this whole thing out as I go. I speak from experience, and sometimes life throws me a curveball that changes my outlook. But one thing doesn't change: I truly get it. EMS has been my life since I was 18. I've been through hardships, lost relationships over it, had major successes and catastrophic failures. I may disagree with my peers on a lot of things, but I understand where they're coming from. Chances are, when I'm debating with someone, I most likely held the same exact opinion they did at some point.
My goal is inspire and to learn. If I can spark enough emotion to light just one fire that changes the trajectory of someone's life and career, then I have accomplished my goal. Thank you again for taking the time out your busy lives to hear what I have to say.