3 Mental Hacks to Make You a Better Paramedic
|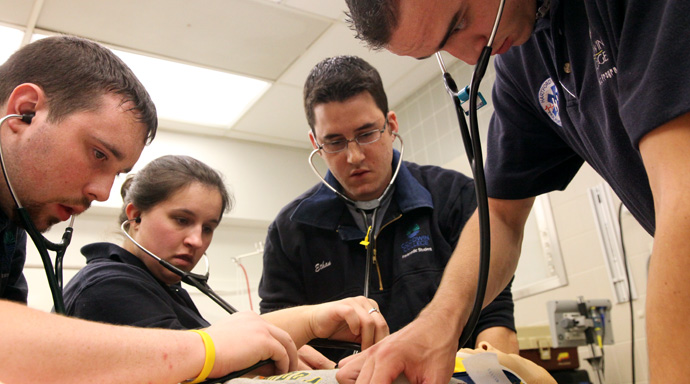 I learned a long time ago that good medicine is practiced in the mind, not at the hands. Monkeys can learn skills, but they can't be taught to think critically. I'm a firm believer that paramedicine is 10% skills and 80% head knowledge. And no, I'm not talking about memorizing lines out of a textbook. I'm talking about being open-minded, constantly educating yourself, learning how to really listen to what patients are trying to tell you and just learning to get an understanding of "the big picture."
I wrote this article to share some lessons that I learned over many years of making mistakes and growing as a provider. Nothing here is magic. It's merely a few ways to get your mind in the right place.
Create a Checklist
This can actually be a physical or mental checklist. A long time ago, I struggled with organization while on calls, especially traffic collisions. I found myself doing things like forgetting to gather pertinent information for the hospitals or realizing that I forgot to do something while on scene. It was rather frustrating as I felt these instances made me look incompetent. This was something that gradually improved over a long period of time. It wasn't until I had a paramedic intern that had the exact same issue, that I came up with the checklist system. I created a card with an actual list of things that needed to happen on every single call, and it worked really well. Actually, I started using it myself after I realized how well it was working for him.
All this does is use habit-building to help create a natural flow. The more you practice it, the more proficient you become and fewer mistakes you make. When I first started using the checklist, I would carry a card in my pocket and check it before leaving the scene to make sure I didn't miss anything. It didn't take long before I no longer needed the card.
Here is the exact list that I used. You can obviously create something that works for you.
Assess for hazards / safety concerns on arrival
Complete initial assessment of the scene / patient (general impression)
Come up with a plan of action
Request needed resources / cancel unneeded resources
Delegate BLS tasks (assessing vitals, applying oxygen, etc)
Gather patient's belongings and med list
Move to ambulance
Complete planned treatment / reevaluate
Call report
Prepare for arrival
Be Intentional With Everything You Do
This was something that my preceptor drilled into my head during my paramedic internship. It was never good enough that I treat a patient. I had to have a reason why I did everything from intubate to positioning the patient on the cot. Every single movement had to have a reason, and stating the patient's chief complain wasn't good enough.
I can remember clearing the hospital, feeling pretty good about the call I had just run, until Jerry asked me why I chose to place our patient on oxygen. I responded with "he had chest pain". This was far from the answer he was looking for. He wanted to know how the oxygen was going to benefit the patient and at what point during my assessment did I come to this conclusion. It seemed a bit overkill to me at the time, but like the stubborn child who goes back to thank his parents years later for all those "hard lessons", I had to do the same.
Jerry really taught me to be intentional with every single thing that I do and to have a reason for it. To this day, I have a reason for everything from walking the patient vs carrying, hanging an IV bag vs using a saline lock and even sitting the patient upright vs laying them supine. My reasoning is often something as simple as "patient comfort", but it's an intentional action every single time.
If this isn't something that you're doing now, try it. Challenge yourself to question every treatment, assessment, movement, etc on your calls. Dig as deep as you can to understand exactly who you do what you do. This will make a huge difference in the way you approach patient care.
Perform a Mental Debrief After Every Call
This is actually a practice that I started fairly recently in an effort to identify areas of needed improvement. It's rather simple. Come up with the basic categories of tasks that you complete on every call and just ask yourself how you performed in each category. Some examples are radio reports, assessments, ECG interpretation, bedside manners, scene management, etc.
Once you clear your call, just ask yourself how you performed in each category. I started doing this as a mental exercise, but quickly found benefit in creating an actual journal. I use this method to hold myself accountable and to push myself to improve every single day. Complacency kills and this is a great way to ensure that you don't fall into that trap.
You have ideas to share, please let me know! I'm always looking for things to include in my #BeABetterMedic series.