Product Review: CPR RsQ Assist
|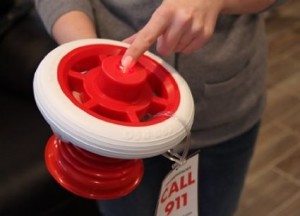 [Video review at the bottom of the post]
A few weeks ago, I received this handy device in the mail to test out. The CPR RsQ Assist is essentially what the name says: A CPR assist device. The idea behind it is to guide lay-rescuers through CPR and to reduce fatigue. From what I found, it does both very well. More on that in a minute….
Opening the Package
The CPR RsQ Assist comes ready to use. No need to assemble or install batteries. It comes packaged in a round, plastic carrying case that's easy to open. The case is handy for storing the device and keeping it free from dust or other objects that might damage it. So far, I have kept mine stored in the back of my SUV and it has held up against me tossing in work gear, music equipment and even firewood.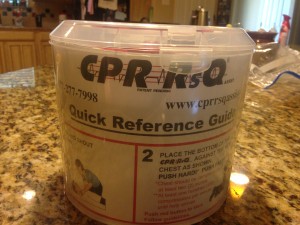 Using the Device
For EMS providers and rescuers trained in CPR, using this device should be a no brainer………just put the device on the chest and start pumping.
For the lay-rescuer or bystander with no CPR training, it has a button in the center of the device that activates voice prompts to guide the rescuer through chest compressions. The device even gives voice prompts to help rescuers keep compressions going at a rate of 100 per minute. Pretty cool if you ask me.
Being that the manufacture promises a significant reduction in fatigue, I decided to put it to the test. I pulled out the CPR manikin at work and did a couple rounds of 200 compressions using the CPR RsQ Assist and then did the same using the traditional method with my hands (after plenty of rest between sessions). I can honestly say that it felt like I exerted myself far less when I used the CPR RsQ Assist. Of course, I don't have any scientific data to back this up, just my personal experience.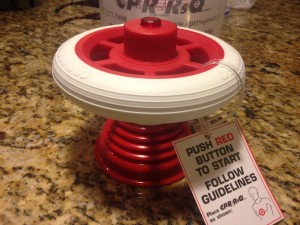 Field Application
The CPR RsQ Assist is certainly a good investment for lay rescuers and businesses that see a large amount of people passing through their property on a regular business. While the device isn't specifically marketed to first-responders, I think it could actually be of great benefit to rural providers who might be waiting a long time for an ambulance or extra help to arrive. The reduction in fatigue should equate to longer periods of quality CPR, which ultimately leads to increased chances of survival. At less than $100 per device, it should fit most budgets.
Information and Purchasing
For more information on the CPR RsQ Assist and for purchasing, you can visit their website: www.cprrsqassist.com
The CPR RsQ Assist can also be purchased from Amazon.com for $79.50: CPR RsQ Assist Hands-Only CPR Device