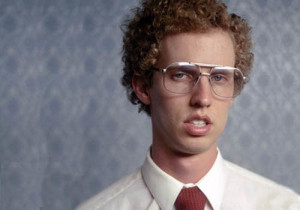 After his success on the big screen and short-lived time on cable television, this week's "Celebrity Medic" has been rather silent. Perhaps he's sitting back relaxing with a tube of chap stick and pocket full of tater tots, or maybe he's looking for another line of work. Either way, what better time than now to explore a new career in the field of pre-hospital emergency medicine? This leaves us to ask ourselves the big question:
What kind of paramedic would Napoleon Dynamite be?
Napoleon would most likely work for a small, rural EMS service in his home town of Preston, Idaho. He would have most likely been inspired to take up work in EMS after his grandmother's quad accident that left her with a broken coccyx. Chances are, he would still be living at home, which would work to his benefit being that the ambulance service he works for only pays a dollar an hour.
He would most likely be paired up with his best-friend Pedro, who would be rather quiet but would do most of the driving. They would most likely respond on Pedro's bike, taking it off plenty of sweet jumps on the way to calls. This, of course, means that Napoleon's crew would be limited to first-responder duties. Patient transport would be completed by Uncle Rico and Kip, using Uncle Rico's van.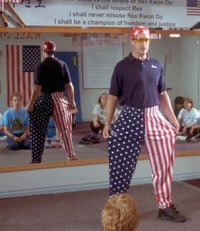 Scene safety would be handled by Rex, from "Rex Kwon Do", and his wife Starla. They would be dispatched to all of Napoleon's calls to ensure that the scene was clear.  Rex would provide these services at a cost of $300 every 8 weeks. For an additional fee and a promised vote for Pedro, you could also receive on-the-spot personalized protection by Pedro's cousins.
Protocols for Napoleon's ambulance service would mostly consist of "doing whatever I feel like doing…..gosh!". More specifically, hypoglycemia would treated by administering tater tots that Napoleon stores in his pocket. Trauma care would be provided in the form of prevention, using Uncle Rico's time machine to travel back before the incident and stop the traumatic event before it happens. Instead of outlining interventions that Napoleon could perform, there would just be a list of "skills".
Instead of doing a traditional bedside report at the receiving hospital, Napoleon and Pedro would hand off patient information in the form of a skit or current event presentation.
Documentation wouldn't be completed in the form of a traditional or electronic PCR. Instead, Napoleon would draw animated pictures of the patients that he transported in a scene that describes their condition and what they looked like on arrival.
Uniforms would include black snow boots, white shirts with "big sleeves", and round buttons featuring "Glamour Shots By Deb" for identification.
In conclusion, I feel that flexible protocols, a tiered response system, time travel capabilities, and a massive set of "skills" would all contribute to a efficient and effective delivery of pre-hospital medicine.
Have an idea for the next "Celebrity Medic"? Send me an e-mail at sean@medicmadness.com.