Hopefully you read the original story about my SWAT standby that resulted in the fulfillment of 2 items on my "EMS Bucket List". If not, go read it and come back.
After posting the story, my old partner that I worked with that day contacted me to remind me of a another part of the event. I'm not sure how I forgot, but my lapsed memory caused an important part of the story to be left out.
I forgot to mention that the captain on the engine company had rang the doorbell of a nearby house to ask if it was OK to use their phone book to find a coupon for a nearby pizza place. He was successful in his mission and saved us a couple bucks. To top it off, the residents of that house felt bad for us sitting outside for so long and actually baked us cookies and brought us some lemonade after our pizza arrived.
Another thing he added to the story, was photographic proof that I didn't realize existed. At the time, cell-phone cameras weren't anything like they are today, but you can clearly see our pizza and my hand giving the "thumbs-up" on a well executed plan.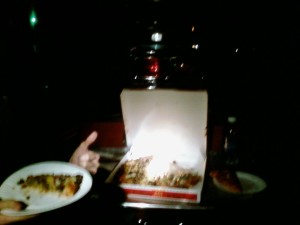 A special thanks goes out to my old partner who's identity will remain protected.