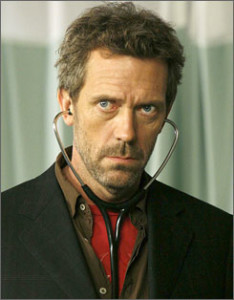 After a needed break, the Celebrity Medic series is back! This week we are going to discuss someone who in my opinion, could be the best candidate for a job in EMS yet. Dr. House has made quite the living entertaining us on Monday nights for some time now, but like any other TV show, all good things must come to an end. So what happens to the arrogant, yet extremely smart doctor once they pull the plug? He could retire and enjoy a life at ease, but I think we all know that wouldn't happen. He would need some form of additional income to help fund his gambling habit, and what better way than a career in EMS? So then we must ask ourselves the big question….
What kind of paramedic would Dr. House be?
Response
Unlike most EMS providers who respond to pagers and quick-call systems, Dr. House would be tracked down by his boss to inform him of an interesting call. For the most part, he would handle all of the critical cases. That is unless he gets in trouble. In that case, he would be assigned dialysis transfer duty for a duration decided by his boss.
Vehicle
I find it hard to believe that Dr. House would have any job satisfaction driving around in an ambulance all day. Instead, he would utilize his motorcycle and ride in with the responding crew if he felt it necessary. This probably wouldn't happen often as he would fix most of his patients on scene, eliminating the need for a hospital visit.
Shifts
While it's difficult to determine what kind of shift he would work, we do know that it would be one that requires the least amount of hours possible.
Protocols
It wouldn't really matter what's allowed at Dr. House's ambulance service, because he wouldn't follow the protocols. That is unless those protocols allowed things like performing a liver transplant on scene of a vehicle accident, or ignoring DNR orders.
Partner
Dr. House would most likely want a team rather than a partner. But if I had to take a guess, I would say that Dr. Wilson would be the best fit for the job. He's used to House's antics and can counter-balance his negativity on scene. Plus he's great with dying patients.
Specialties
While Dr. House's service would respond to all types of critical calls, they would definitely specialize in pain management. We already know that House is well educated and experienced in the techniques of narcotic administration.
Scene Safety
Being cleared into a scene is something that Dr. House wouldn't wait for. Chances are, he would bust into any situation, regardless of the dangers. While this could be dangerous and potentially lethal, it could reduce or eliminate the need for hazmat, law enforcement and technical rescue. This would be beneficial to the public safety workers as well, as they most likely wouldn't like working with House anyway.
Conclusion
Dr. House's previous medical experience, ability to see past lies, critical thinking skills, laziness and arrogance would make him a perfect fit for a job in EMS.
Have an idea for the next "Celebrity Medic"? E-Mail me at sean@medicmadness.com