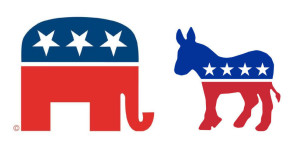 Definition -

Politics : Poli [Many] + Tics [Blood sucking parasites]
It's rare that a day goes by when I don't get involved in some sort of political discussion. You probably wouldn't believe it by listening to me or reading my blog, but I really do hate politics. You will understand in a minute.
Before I started working in EMS, I worked for a political consulting firm. We basically ran campaigns for several candidates at the local, state and federal level. I mostly did computer work, as that was the best skill I had to offer the campaigns. I created websites, generated phone lists, managed databases, created banner graphics and did general IT work. I had always wanted to be involved in politics, and I was going to school to get a computer science degree so this should have been my dream job.
Not so much.
The job did have it's perks. I got to know some pretty high-profile politicians. I worked on their campaigns, attended events with them and on occasion, accepted some under-the-table cash to fix their home computers. For a young man with little job and real-life experience, it seemed like a good gig at first.
The glamor of the job didn't last very long. I quickly realized that politicians could care less about what their constituents want. When it was time to take a position on a topic, we never talked about what would benefit the public, or what the people wanted. It was always "whatever gets the votes". I figured this out the first time a candidate decided his position on a subject based on the demographics of his district.
Getting dirt on opponents was fun at times and actually pretty easy. Looking up criminal and voting records was a given. Hell, the newspaper pretty much did all that work for us. Where we really got the dirt was by calling ex wives / girlfriends. What's sad is that people actually paid attention to the BS that we ran on commercials. Half the time we stretched a story just far enough that the opposition had to spend time debunking our accusations. If you had them on the defense, you were winning. God forbid we were to ever just run on facts and tell the public what our plans were.
I really grew to hate the people I worked for. The politicians were fake and arrogant. Every single one of them. Come to think of it, I don't believe I ever voted for a single candidate that I worked for. By that time, the job was just a paycheck until I could find something else. It was sickening. These people were supposed to stand for everything that I believed. The truth is, they stood for nothing.
Some of you might think it's just the party that we represented. I know for a fact it's on both sides. Partly because I was frequently used to "spy" on other campaigns. On a couple occasions, I was actually getting paid by one campaign to volunteer for the opponents campaign. I was perfect for that job because most of my work was done behind the scenes. It would be unlikely that anyone there would recognize me. While this would be considered to be dirty tactics, it was being done by both sides. Both candidates treated their workers like dirt and didn't care about the public.
I was hardly paid enough to pay my bills (which were minimal). On countless occasions, I was called in on my days off or late at night to come in and fix a problem. Of course, they never compensated me for the extra hours. Instead I was told that my hard work was "for the good of the party". I ended my career by walking off the job 5 days before an election. I left 3 candidates with no calling list, a locked database and no way to update their website. I literally reached my breaking point. After being told several times that we were all replaceable, I figured I would take them up on the offer.
As far as my love-hate relationship goes. I love discussing the issues, because they really do matter to me. What I hate is knowing that the people that we are electing are all in it for themselves.
2 weeks after I left, I enrolled in EMT school.