If Steve Jobs was a Paramedic
|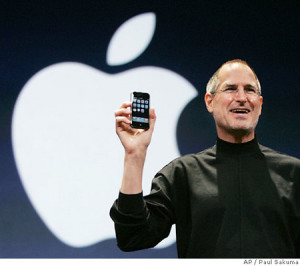 It's rare that you can walk down the street or stop by your local coffee shop and not see someone texting away on their iPhone or blogging on their macbook. The once "underdog" of the tech world has become the new driving force in not only the mobile phone world, but the computing world as well. But what goes up must go down. What's going to happen to Mr. Jobs when the next person takes the thrown as the King of the tech world? Many would speculate that he could enjoy a comfortable retirement with all of the money that he has made. But I suggest that he take up a career in pre-hospital emergency medical care.
So if this were to happen, then we would have to ask ourselves the billion dollar question: What kind of paramedic would Steve Jobs be?
Shifts
Just like his mobile devices, there isn't any real way to remove Steve's power source. He would have no choice but to continually work around the clock regardless of whether or not his patients have requested his service.
Response
Obviously the modern tech-guru wouldn't utilize an old system like a quick call or 2-way radio. Instead, he would be notified via a web submission form that is then forwarded to an e-mail address that generates a SMS message on his phone that is transmitted to his glasses / micro display monitor via Bluetooth.
Vehicle
Steve would most likely respond in his newly released product, the iRescue. Unlike traditional ambulances that come in all shapes and sizes, each iRescue is exactly the same and only uses engine parts manufactured by Apple's new emergency vehicle department. The ambulance features a touch screen steering wheel, a single round button to operate the siren and is electric powered. Unfortunately the vehicle is not very durable, extremely expensive and does not come with a factory warranty.
Continuing Education
People working for Job's ambulance service would receive protocol updates via iTunes. These updates would take hours to complete and therefore would easily satisfy the typical required 48 hours of CE's for license renewal.
Radio Reports
As mentioned earlier, Mr. Job's wouldn't be utilizing ancient technology to hand off patient information. Instead he would utilize expedient data transfer methods like e-mail and text messages. The ability to include pictures in transmitted reports unfortunately won't be available until later releases of his iPCR software.
Protocols
Patient care guidelines for Mr. Job's service are very strict and not available for public viewing. Also, patients requesting care from his service must already be users of at least 2 of his products.
Equipment
Now what kind of tech guy doesn't come with his own set of gadgets? Steve is no exception. Here is a list of some tools that would be used in Mr. Job's ambulance service:
iShock – ECG Monitor / Defibrillator that features a high-def screen and is controlled by a single wheel-like touchpad.
iSuck – Portable battery-powered suction device. The power is controlled by a touch-screen control panel.
iBreathe – Portable ventilator that is controlled remotely via an iPhone / iPad app.
iPump – Automated chest compression device that links with the iBreath via Bluetooth for complete synchronization.
Have an idea for next weeks "Celebrity Medic"? E-Mail me at sean@medicmadness.com