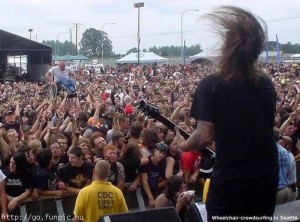 Ladies and Gentleman, It's my pleasure to introduce you to the kings of "Heart Stopping Rock and Roll"…..The Defibrillators!
On bass guitar is "Pace". Pounding away on the drums is the infamous "A-rrhythmia". Hammering out those insane guitar solos is "Tach". And last but not least, the voice behind the music….on rhythm guitar and lead vocals, the one and only "Ectopy"!
Ok so now for the real story…..
My boss came to me with a special project the other day. Being that there are a decent number of EMTs and Paramedics that play instruments at our company, I was asked to organize a band. This group will consist of nothing but EMS professionals. So far I have me on guitar and vocals, and 2 other paramedics that play drums and bass. I'm hoping to get at least another guitar player and maybe a keyboard player in the group.
So my question to you is, what would be a catchy band name for a group of paramedics? We will playing mainly classic rock, blues and whatever else we feel like doing.
Below is a picture of a group I put together at the last minute (mainly of EMS personnel) for a public safety earlier this month. (I'm on the far right)