While searching for more mobile applications that could be useful to EMS providers in the field, I came across a very handy free tool. "Scanner Buddy" is a free radio scanning program for android phones. It's basically like a hand-held scanner for listening to public safety radio frequencies. I was actually quite surprised to find out that a few people in my workplace already use this application and have for some time. I downloaded it and tested it on my Motorola Droid via the Verizon network. Your experience may be different than mine if you use a different phone or cell provider.
Installation
This application can be found in the android marketplace. Simply do a search for "scanner buddy" and it should be the first result in your search. Download and installation only takes a few seconds. When you run the application for the first time, it will take a few minutes to download the most up-to-date frequency list.
Putting it to use
Scanner Buddy streams radio traffic from public safety agencies all over the world. When you open the application, select the "list" button located on the far right hand side of the screen. This will bring up all of the frequencies that are available. They are categorized by country, then sub-categorized by state. To listen to a station, simply select the frequency and hit "play" on the main screen. The stations typically only take a couple seconds to load.
Here are screen shots of the main screen and a list of frequencies.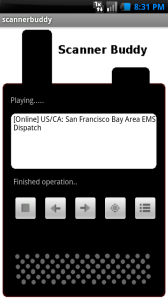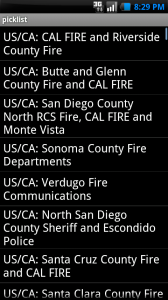 This is great for use while on duty. It can be used to monitor police traffic while staging for an incident, monitoring fire traffic while responding to large scale incidents or simply just listening to the radio to hear what's going on in your response area. An absolute must for EMS providers.
Possible areas for improvement
There isn't really anything bad to say about this application. It loads fast, and typically doesn't cut out. Having said that, there are a couple things that I would like to see included.
Bigger list of providers in the US.
-My county was not included in the list. I did my testing on a neighboring county's frequencies.
Option to sub-categorize by county and type of agency.
Conclusion
Overall I feel that this application is solid. It's an extremely useful application for anyone working in public safety or EMS. I would highly recommend this product to anyone with an Android phone. I would even recommend this over the paid alternatives on the market.
As always I welcome questions, comments and suggestions for new applications to review.