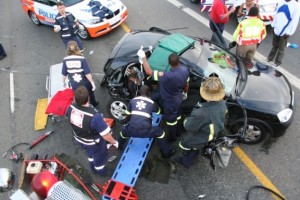 Overheard at the tire shop while attempting to get a flat repaired on our ambulance:
Store Clerk (interrupting the mechanic that's helping us): "How many lives have you guys saved today?"

Sean: "Everyone's healthy so far today."

Clerk: "Do you guys see some crazy stuff, or what?"

Sean: "We have our good days and bad days, fortunately today has been peaceful."

Clerk: "So you haven't seen any crazy, mangled, bloody people today? That's no fun! What's the worst thing you've ever seen, bro?"
I don't know why this scenario continues to get under my skin. I got over being called an "ambulance driver" years ago and I have accepted the fact that everyone assumes that I'm either a firefighter or that I want to be. However, I simply can't seem to shake the irritated feeling I get when I hear that ignorant statement.
I can't help but wonder if we are to blame for this. Most people wouldn't dream of asking that question to a Child Protective Services agent or a counselor that works with battered women. Is it the "adrenaline junkie" label that many of us so proudly wear? Perhaps we are over-glorifying our profession. I have yet to see a C.P.S. agent or counselor hype their jobs up or refer to themselves as "emotional junkies". I can't figure this one out.
When this conversation comes up, it takes every ounce of self control not to honestly answer their question. I have to remember that they are expecting some answer that involves someone getting decapitated or shot. Maybe even a funny story. They aren't wanting to hear about the child we had to leave lifeless on the icy bridge because there were too many other critical patients that had a chance of survival. They probably also aren't interested in hearing about the 6-month-old sitting in a car seat in the back of the ambulance while we do CPR on his mom.
So what is the worst thing I've ever seen? I don't have an answer for that because I choose not to make comparisons on the things I've witnessed during my career. That would require me to dig up some of those memories, and I really have no desire to do that.
Does anyone else feel this way?